We care for your patients as much as you do
With PICCSTAT you get more than a vendor, you get a partner. Since we are founded by health care professionals, we are passionate about making your health care initiatives ours.
A Patient's Story
I became very ill and was eventually diagnosed with Lyme's disease after developing meningitis and Bell's palsy. Tim Werner, founder of PICC STAT, placed my PICC. Because of my situation he came to my home every day to administer the medicine I needed. I found the nurses from PICC STAT to be very professional and respectful. They were empathetic, compassionate, and genuinely concerned about my welfare. I would gladly recommend PICC STAT to anyone needing their services.
Become a Partner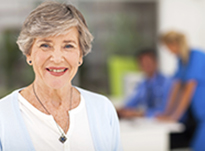 How it Works
Partnering with PICC STAT is easy. With service available round-the-clock there is always a nurse representative to answer your questions. Just call our toll free number at 1-866-782-8742
Step 1

Call a PICC STAT Representative

Step 2

Select the services your facility needs

Step 3

Work with an experienced representative to create an affordable partnership agreement
Contact Us